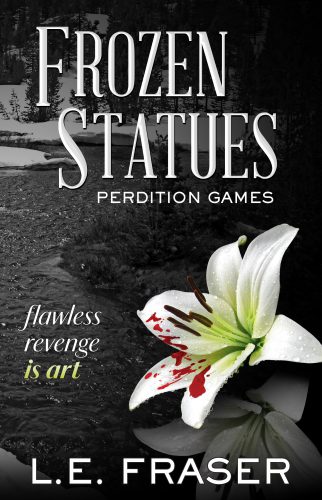 Frozen Statues
Flawless revenge is art
In the bitter cold of a Canadian winter, seven university freshmen vanish without a trace. Soon afterwards, police discover a ghastly crime scene—the victim is frozen solid and his eyes are missing, replaced with black stones. A week later, they find a second frozen statue at an identical crime scene.
Toronto PI Samantha McNamara suspects a copycat is mimicking Incubus, the serial killer who brutally murdered her sister three years earlier. And when Incubus writes to her from a maximum-security prison, Sam is certain that the psychopath holds the key to saving the remaining students.
But as the hunt for the young men intensifies, Sam is unwittingly lured into a lethal trap, intricately planned to destroy her. Haunted by the signature white lily that Incubus tattooed on all of his victims, Sam grows obsessed with uncovering the meaning behind the flower. Her partner and fiancé, former police Inspector Reece Hash, watches helplessly as Sam rushes headlong into destruction. With time running out for his fiancée and the abducted students, Reece must unravel a psychopath's twisted game. And do it before the serial killer poses his next work of art.
Five young men wait in terror. Which will be the next frozen statue?

Editorial Reviews say…
Fraser fuels the plot with increasingly sadistic secrets. Careful details about the murders, like the staging of victims during foul weather to ruin forensic evidence, are impressively geeky.—Kirkus Reviews

5* Frozen Statues is a complex and mesmerizing puzzle with a cunning serial killer and a likable protagonist that twists and turns with every chapter."—Awesome Indies

Psychological thrillers are supposed to be compelling but the really good ones, like Frozen Statues, Perdition Games by L.E. Fraser, will really throw the reader for a loop.—Marta Cheng, Self-Publishing Review

5* Frozen Statues, Perdition Games is a masterpiece, an absorbing story that defines its place in the area of crime and psychological thrillers.—Romuald Dzemo, Readers' Favorite
Purchase Frozen Statues at the links below!