LAST WEEK I bought a zero-gravity chair and marble table for the patio. There was a lovely spot under the Magnolia tree that needed a quiet reading chair. Isn't it cute?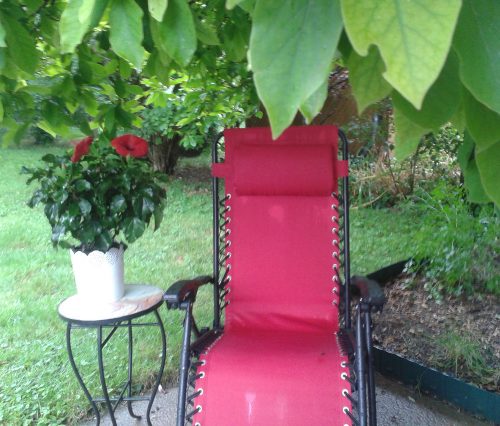 Sadly, it's rained every day since I tucked it into position. So, I'm stuck in my office with my three pug Muses. Cole and Porsche are post-operative and recovering nicely from surgery. They're enjoying lots of snuggles, although the kitchen island resembles a pharmacy because of all their medication. It's going to be a long two-weeks of compounding pills into liquid form and stuffing syringes full of bitter medicine into their squished, wrinkly snouts. Pearl-Pug is unimpressed with the attention the other two are receiving. And, since they're on a restricted diet, it means no treats for Queen Pearl either. Fair is fair.
Frozen Statues is out in the world and I'm confident that the rest of August will be full of heat and sun. So I'm looking forward to watching healthy pugs frolic in the garden while I work outside and develop the disturbing plot for my new book, scheduled for release next summer.
August is a fun month for my family because  my husband and elder son share August birthdays. We're a huge foodie family and celebrate every event with a bevy of gourmet delights.
To share my special month with you, Skully, Perdition Games is FREE internationally.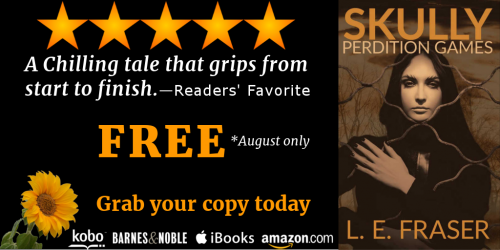 It's available at all online retailers. Simply click on the icon of any store to download your FREE copy. You don't have to subscribe to anything. It's just a little gift from me to you.
---




---
So grab yourself a lawn chair and settle down in the August heat with a spine-tingling thriller. It's a dark tale, so reading it in daylight may be a good idea. I hope you enjoy the story and consider adding a short review on Amazon and Goodreads so I can hear your thoughts. Or, drop me a line HERE and let me know what you think.
Pug-Hugs,
Lori