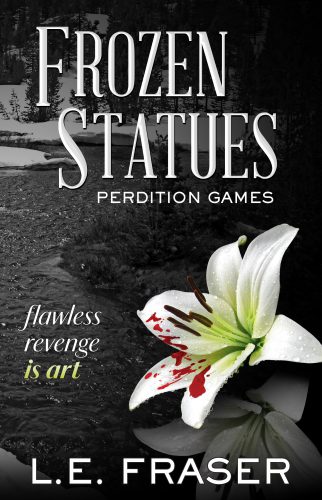 DUE TO LIFE getting in the way, I'm late in blogging about the release of my fourth book, Frozen Statues, Perdition Games. The announcement went out to the subscriber list a few weeks ago, so if you'd like to hear about new releases (hummm, promptly, I mean) you can sign up HERE.
In addition to life, I procrastinated over a laundry list of chores, such as disabling the Goodreads' RSS feed to the website on my blog. If you follow me on Goodreads, you may have noticed that anything uploaded from our website looked as if one of my pugs designed it—without the advantage of opposable thumbs. That's fixed, the website is updated, and we're finishing off the new branding for the social media sites. If you're in the publishing world and cringing over this disjointed release of a fourth book, I feel you. What can I say? Life happens at professionally inconvenient times.
Frozen Statues (June 30, 2017) is dark and delicious. It is my favourite because of the depth of the characters. I had the most fun with Incubus but he also took the most amount of thought and research. It was important to me to stay true to the psychological pathology of a psychopath. That required showing accurate diagnostic criteria for APD (Antisocial Personality Disorder). As I began to write the Incubus character, I faced some unique challenges. A true psychopath isn't driven by typical motivation. Since Incubus couldn't have any emotional depth, his character arc couldn't follow traditional creative writing rules. There could be no transformation or inner journey for Mr. Psychopath. That would be a cheat. And since a psychopath exhibits deficient emotional reactivity, I couldn't overlay inner struggle. He wouldn't have doubt over his behaviour, nor would he experience a moment of reflective insight or a private desire to change. Although I've never asked one, I feel confident that a lion doesn't feel bad pouncing on and eating a zebra. No residual feelings of shame or guilt for the lion. He's higher on the food chain. It's instinct and nature. In Incubus's case, the character's absence of depth was key to portraying a terrifying complexity, incomprehensible to the majority of society.
Protagonists Toronto PI Samantha McNamara and former police inspector Reece Hash are back. In addition to running the investigation firm, Sam is in her fourth year of her psychology PhD and Reece is finishing his final year of law school. For returning readers, you'll recognize old friends, meet new characters, and—as usual—crawl into some deeply disturbed minds. I do love to share dark psychology.
If you aren't familiar with the books, these aren't episodic and there's no need to read them in order. Each novel has a standalone plot with a resolution to the storyline. Not that they're always happy outcomes. Reality often isn't and justice doesn't always prevail.  If you enjoy reading fiction with serial killers, you can start with Frozen Statues without feeling confused. If you click  HERE and scroll down, you can download the first three chapters to see what you think. There are lots of twist in this one, which is fun.
I was also late this year submitting the ARCs—shall I whine here about how well organized I usually am?—but the editorial reviews are coming in. Kirkus Reviews liked the book so much that they're including Frozen Statues in the August 1st edition of their magazine, which is an honour.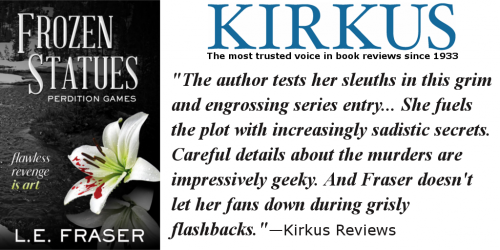 Love that impressively geeky line. You can read the full review here HERE.
A colleague, Joseph Hirsch, provided some excellent advice during the developmental phase. It would be idiotic not to heed the advice of this talented man, so I did. The imagery in his novels is absolute art. Up in the Treehouse is one of my favourites, in case you're unfamiliar with Hirsch's work. But following his excellent advice was emotionally difficult for me. I hope that means I did my job right and the reader will feel the character(s) angst in an honest and unapologetic way. But descending into the abyss to experience the strength of the character's pain in the given moment was a tough journey. I cried the entire time I wrote one chapter.
One of the best parts of my job is working with the talented professionals I'm blessed to have on the book team:
Sadie Scapillato developmental editing
Jennifer McIntyre substantive content editing
Ellen Michelle copy proofing
Mike Doyle Design Studio graphic artist. Mike is also the artistic genius behind the cover of Red Rover, which was the first project we worked on together. He did the web design and the new social media banners.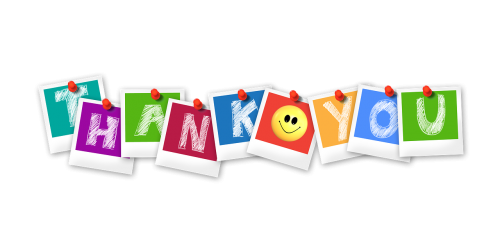 To celebrate the new release, we're running a FREE campaign on Skully, Perdition Games over August.  Click HERE and pick the icon for your favourite online retailer.
Thank you for allowing me to share my news. I can't wait to hear your opinion on Frozen Statues, Perdition Games. Good or bad, all feedback is priceless.
Pug Hugs,
Lori