From the Book Jacket…

Change happens. It's a fact of life. But what if the change is so drastic it irrevocably alters your entire society, your whole world?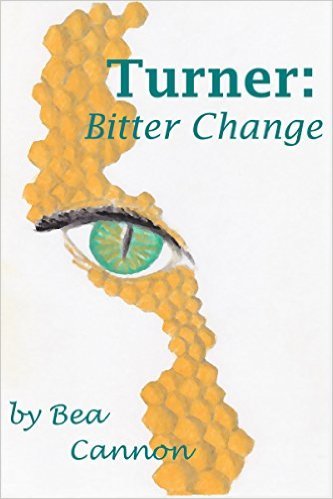 TITLE:             Turner: Bitter Change
AUTHOR:        Bea Cannon
PUBLISHED:  18-Nov-2014
PUBLISHER:  Bea Cannon
GENRE:           Science Fiction > Fantasy > YA
AMAZON:       Turner: Bitter Change, Bea Cannon
WEBSITE:       Bea Cannon
---
4* ~ ALIENS HAVE OCCUPIED earth and humans are slaves, but Juri Turner has larger problems. Everyone who encounters her hates her. This mysterious 'hate Juri' pheromone spread to her family, forcing her to flee. At fifteen, Juri is caught stealing food and incarcerated, but when she meets the institution's administrator, she learns the reason she's different. Mankind's survival is contingent on Juri, and she'll have to make hard decisions and sacrifice in order to save the human race.
Written through the eyes of Juri, this story follows an atypical girl with issues that mirror modern day adolescence. In that regard, it's reflective of a coming of age story and most people can relate to young Juri's tribulations. The informal style adds an emotional quality to the protagonist, and the character's dry wit and pragmatic attitude is engaging. The protagonist has a unique speaking voice, but the reliance on non-verbal sounds to express emotion is distracting. Using Juri's deliberate deference and inner musings is sufficient to show her lack of trust and fear of adults. In contrast to the protagonist's strong voice, the supporting characters' dialogue is stiff in places, but the bevy of characters work well together.
Settings are imaginative, and, rather than telling the reader details, Cannon uses surroundings to illustrate visual perceptions that differentiate the two worlds. Subplots are relevant to the storyline and the main plot unravels at a good pace. The ending provides sufficient resolution, which can be difficult to achieve when dealing with a multiple book saga. A solid round of proofreading would be beneficial. There are typos, grammar errors, and a few formatting issues in the eBook.
Turner: Bitter Change is a fun novel that features magical creatures with lots of personality. I'd recommend it to fantasy and young adult readers.