From the Book Jacket…

Jodi and Todd are at a bad place in their marriage. Both are at the mercy of their unrelenting wants and needs, and both are unaware that the path they are on is careening toward murder. Much is at stake, including the affluent life they lead in their beautiful waterfront condo in Chicago, as she, the killer, and he, the victim, rush haplessly toward the main event, oblivious of the destiny they are jointly creating, caught in the thrall of disaster unfolding.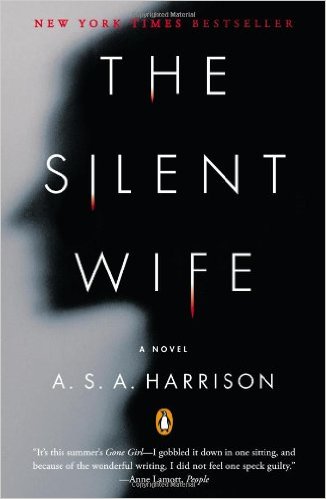 TITLE:              The Silent Wife
AUTHOR:         A.S.A. Harrison
PUBLISHED:   25-June-2013
PUBLISHER:    Penguin Canada
GENRE:             Thrillers & Suspense > Literary Fiction
AMAZON:         The Silent Wife, A.S.A. Harrison
WEBSITE:         A.S.A Harrison
---
5* ~ JODI HAS THE perfect life, or so she thinks. A part-time psychologist who works from her stunning Chicago condo, Jodi's partner provides a comfortable lifestyle. For twenty-years, she's lived her life on her terms, stoically ignoring Todd's one bad habit: monogamy isn't in his vocabulary. But the development firm that provides their income belongs to him, and when Todd's dalliance takes a serious turn, Jodi realizes that she could lose everything. By not marrying Todd, she's disposable, along with her luxury condo and extravagant standard of living.
If you're expecting twists and turns, you'll be disappointed. But Harrison is honest. The second paragraph states, a few short months are all it will take to make a killer out of her. The product description proclaims that Jodi is the killer and Todd the victim. This 'telling' literary device works well. Rather than a 'whodunit', the story is about the psychology that lies beneath the decision to kill.
The only similarity to Gone Girl is the deterioration of a marriage. In addition to annoying characters engaging in unbelievable happenstances in Gone Girl, the police procedures are reminiscent of Keystone Kops. That said, if you're a Gone Girl fan, ignore the editorial comparisons before you open The Silent Wife, an artfully crafted novel.
It isn't a 'thriller' or 'dark'. It is a raw look at the psychology behind dysfunctional relationships, without the Hollywood glam that screams 'it's all made up'. Although Jodi and Todd or unlikable characters, it is the reality of their humdrum life and their inability to communicate that are the heart of the story. Jodi's passive aggression builds alongside her troubles, and Harrison subtly adjusts her character's behaviour to depict the psychology. Todd's jarring selfishness has roots in massive insecurities that Harrison shows in understated situations, and his physical dependency on Jodi illustrates his weaknesses and self-loathing.
Told through first-person POV, alternating between Todd and Jodi, the reader glimpses the characters' motivations and inner turmoil, which hints at nasty truths that hide behind appearances. Harrison details atmospheres and settings to illustrate Jodi's control issues and to support her character's co-dependent disorder. Day-to-day scenes aren't riveting and wrought with excitement. This stylist choice paints the self-destructive nature of the key characters with a delicate hand. The 'errands' and 'routines' have purpose because they illustrate a guarded and regimented mind that entices the reader to guess what horror she represses. Although there is limited suspense, following Jodi's mind through her cognitive distortions is fascinating. As her delusions crumble and Todd's actions back him into a corner, Harrison uses literary devices, such as allegories, to portray the human psychology.
A story that celebrates the art of indirect character delineation, and Harrison's gift with words is poetic in places. If you're looking for a gripping thriller or a suspenseful murder mystery, give The Silent Wife a pass. But if you're a fan of understated psychological dramas, read the book.